Top Mansions and Plantations in Charleston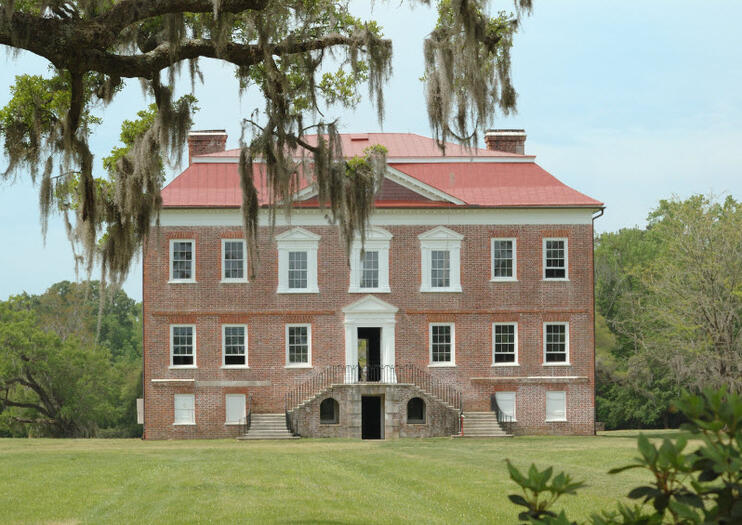 Get an idea of what life was like in antebellum South Carolina by visiting one of the historical mansions or plantations just outside Charleston Here are the top 18th- and 19th-century homes where you can learn about pre–Civil War history.
Joseph Manigault House
Built in 1803, Charleston's Joseph Manigault House is a US National Historic Landmark and today part of the Charleston Museum. Visit on your own or as part of a historical Charleston tour to gain insight into the city's heritage from a guide. Inside, admire American, English, and French furniture, and check out the period garden outside. 
Heyward-Washington House
Also part of the Charleston Museum, the 1772 Heyward-Washington House was built in Georgian style and once played host to George Washington. If you plan to visit both this site and the Joseph Manigault House, purchase a 2-site ticket from the Charleston Museum to save money. Alternatively, some historical and cultural walking tours of the city either pass by or enter the house. Inside, see Charleston-made furniture and the 1740s kitchen building.
Aiken-Rhett House
Listed on the US National Register of Historic Places, the Aiken-Rhett House was built in 1820 and was once the home of the governor of South Carolina. See it from the outside on a walking tour or horse-drawn carriage tour of the city, or visit on your own by purchasing a ticket from the Historic Charleston Foundation, which also operates the Nathaniel Russell House. The well-preserved slave quarters provide insight into how the enslaved once lived here.
Magnolia Plantation & Gardens
Also listed on the National Register of Historic Places, Magnolia Plantation dates back to 1676, when the Drayton family first established its property; Drayton family members continue to control the estate today. Located northwest of Charleston on the Ashley River, the plantation can be visited on a tour or independently. Allot plenty of time for both the plantation house tour and a stroll around the gardens, as well as optional activities like the Nature Train or Slavery to Freedom tour.  
Middleton Place
A US National Historic Landmark District on the Ashley River, Middleton Place was built in 1755. The 65-acre property is known as the home of the oldest landscaped gardens in the country. During a visit, you can also see historical family artifacts inside the house and the stable yards, where costumed staff members demonstrate blacksmithing, weaving, and carpentry.
Boone Hall Plantation
Northeast of Charleston, Boone Hall Plantation dates back to 1681 and is known for its avenue of live oak trees that line the entrance to the property. Listed on the National Register of Historic Places, the plantation can be visited on a tour from Charleston. Learn how the plantation evolved over the centuries, and see the slave quarters for a somber look at this part of history.
Read More
Show Less
---