Salkantay Trail Tours - page 4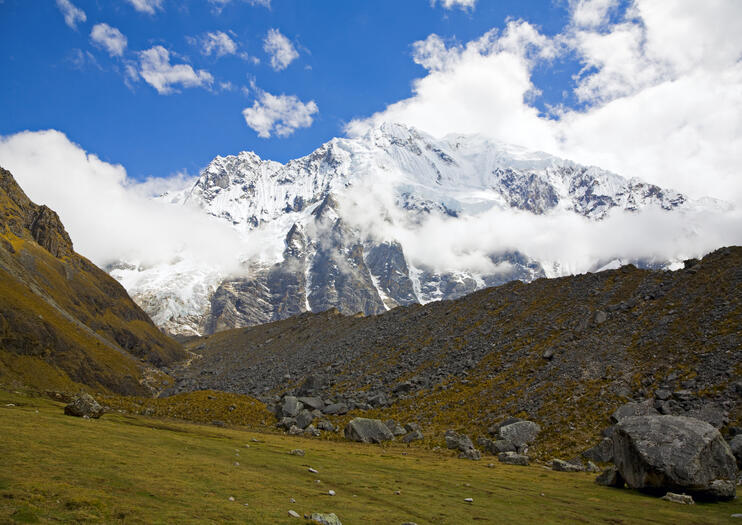 Salkantay Trail, a remote trekking route in the same Andean region as the Inca Trail, offers travelers spectacular scenery. Trekkers pass soaring mountains, picturesque villages, lakes, and lush jungle. While Inca Trail tours are typically booked far in advance, Salkantay offers another (more affordable) way to reach Machu Picchu.
The Basics
Hike the Salkantay Trail to the Machu Picchu UNESCO World Heritage Site, and you'll travel through the Cordillera de Vilcabamba mountain range enjoying incredible views, stopping at indigenous villages, and making your way through tropical valleys full of rivers and lakes. You'll also have a chance to rest weary muscles in the thermal hot springs at Aguas Calientes.
Things to Know Before You Go
Many guided tours of the Salkantay Trail include train tickets back to Cusco, ground transportation, camping and hotel accommodations, meals, and guides. Check individual tours for precise arrangements.
Some activities and services—such hotel upgrades, side excursions, hot springs, and the use of mountain bikes—may not be covered by your tour fee.
Those who use wheelchairs or have a difficult time walking long distances are prohibited from tours.
The Salkantay Trail travels through high altitudes. Travelers should arrive a few days before attempting the hike so that they have time to adjust to the atmosphere and should drink lots of water at all times. 
Tours operate in all weather conditions, and there may be extreme temperature drops between day and night. Make sure to pack appropriately and bring sweaters, jackets, and a rain poncho.
How to Get There
The Salkantay Trail is in the same region as the Inca Trail, on the way to the Machu Picchu UNESCO World Heritage Site. Most tours begin in Cusco.
When to Get There
Open all year round, the Salkantay Trail is a great alternative to the traditional Inca Trail, especially during high season (June–August), when permits for the more popular trail sell out quickly, and in February, when the Inca Trail is closed. Rainy season is generally from January–April.
Fitness Check
All treks are challenging, and it's important to be aware of your physical fitness and to determine how physically demanding the tours are before you book your trip. The Salkantay Trail reaches higher altitudes than the Inca Trail—15,215 feet (4,637 kilometers) compared to 13,800 feet (4,206 kilometers)—and requires more preparation as well as warmer clothing to protect against colder nighttime temperatures.
Read More
Show Less
94 Tours and Activities to Experience Salkantay Trail
---