Top Markets in Cusco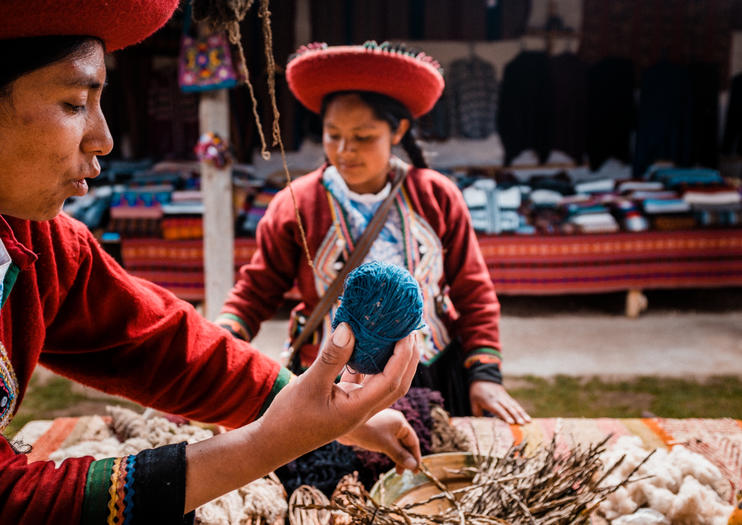 Cusco is not only rich in historic and cultural monuments but also one of the best places to find beautiful handmade textiles and crafts. Comb the traditional markets to find everything from alpaca sweaters and rugs to ceramics and wooden utensils. Here are some recommendations for where to go.
San Blas Market (Mercado San Blas)
With Incan walls and steep cobbled streets lined with artisan shops, galleries, and cafes, San Blas is one of the oldest and most picturesque neighborhoods in Cusco. Each Saturday in the plaza facing the Church of San Blas (Iglesia de San Blas)—known for its magnificent baroque gold-leaf altar—an open-air market showcases contemporary and traditional textiles, art, handicrafts, jewelry, and clothing while a lively band of musicians conjures a festive atmosphere.
Traditional Textile Center (Centro de Textiles Tradicionales del Cusco)
Seeing their ancient techniques and traditions disappearing, a group of Andean weavers established this nonprofit in 1996 to ensure their survival and success. Supporting 10 local weaving communities, the center encourages elders to pass down their family secrets to younger generations. Fair trade prices mirror the higher quality of the goods (rugs, bags, socks, ponchos, and the like), and profits go to individual artisans who are weaving alongside their wares as you shop.
San Pedro Market (Mercado Central de San Pedro)
This bustling indoor market near the train station is a riot of color and aroma. Stalls overflow with sacks filled to their brims with fruit, coca leaves, pork rinds, and potatoes, while others sell cheese, meat, freshly baked breads and pastries, and freshly squeezed juices. Take the time to sit at one of the counters for a hot lunch spooned on your plate from big piping-hot pots and served with a cold Cusquena beer or Inca Kola.
Pisac Indian Market (Mercado de Pisac)
One of the region's most famous markets is an hour's drive from Cusco in the scenic mountain town of Pisac. The market is held every day, but nothing compares to Sundays, when indigenous communities descend from the highlands to set up shop in the main square, selling produce, textiles, ceramics, jewelry, ponchos, rugs, hats and gloves, Andean instruments, ceramics, alpaca and llama clothing, and a host of lovely souvenir gifts.
Read More
Show Less
---