Things to Do in Limerick
Despite being Ireland's third largest city, Limerick is a place that's far removed from the typical tourist trail. Those who take the time to visit, however, will find a recovering riverside city that—although once depressed by economic downturn—has recently been renewed and reinvented as a burgeoning city of culture. In fact, Limerick was designated in 2014 as the "Irish City of Culture," and is a place where Ireland's rich history is fused with its prosperous future. Nowhere is this blend more evident than at the towering King John's Castle, where 3D models and interactive displays help you envision what battles must have been like at this 13th-century castle. Take a walking tour through sites that inspired the book Angela's Ashes, or shop for cheese, chutney, and produce at Limerick's famous Milk Market. Dig deep into artifacts and rare fine art at the privately owned Hunt Museum, or, if your journey to Limerick is fortuitously timed, enjoy a rugby match at Thomond Park Stadium—home to the Munster Rugby team that competes with the best in the world.
Read More
Show Less
---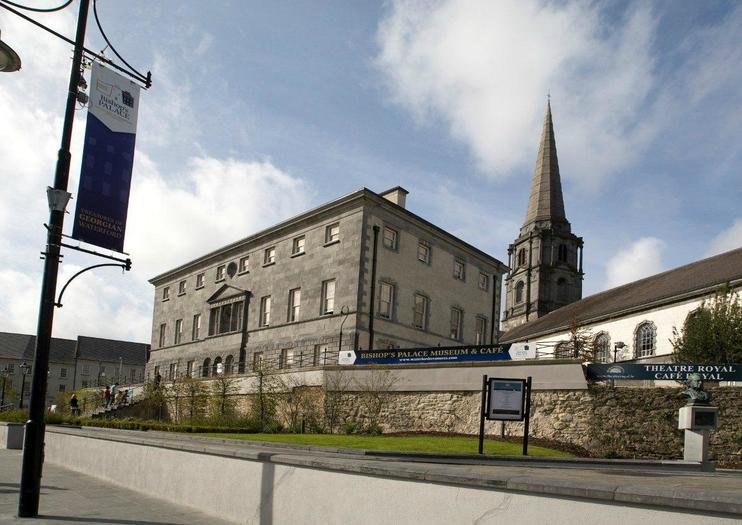 The Bishop's Palace is one of the three museums known as the Waterford Treasures located in the Viking Triangle in Waterford, Ireland. It was designed in 1741 by architect Richard Castles, one of Ireland's greatest architects. The front of the palace overlooks the town wall, which forms part of the palace's terraced garden. The ground floor and first floors of the palace are furnished as an elegant 18th century townhouse and feature period furniture, beautiful fireplaces and rare paintings.
The museum tells the history of Waterford from 1700 to the mid-20th century, with an entire floor dedicated to stories about Waterford's Home Rule story, World War I in Waterford and the War of Independence in Waterford. It also displays unique pieces such as the Penrose Decanter, the oldest surviving piece of Waterford Crystal, dating to 1789, and the only surviving Bonaparte "mourning cross," one of just 12 crosses produced upon Napoleon's death in 1821.
Read More
Show Less
---