Coconut Island (Moku o Loe) Tours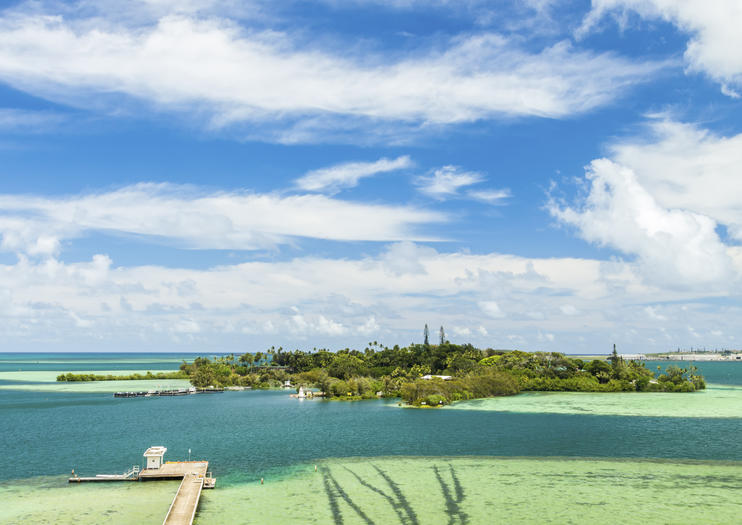 Oahu's Coconut Island, officially known as Moku o Loe, an offshore islet in Kane'ohe Bay, functions as a marine research facility for the Hawaii Institute of Marine Biology (HIMB). It is usually closed to the public, but occasional tours are offered. Barring that, visitors come for the stellar snorkeling, marine life encounters, and other bay highlights.
The Basics
The 28-acre (11-hectare) island was once owned by the Hawaiian royal family, and is most famous for its role in the opening credits of the TV hit Gilligan's Island. Today, while the island is usually off-limits to visitors, the surrounding barrier reef offers some of the best snorkeling on Oahu.
Many public tours provide boat access to locally known snorkeling spots in Kane'ohe Bay as well as tours around the island's perimeter. On catamaran and kayak tours, you can expect to see a variety of native tropical fish and green sea turtles (honu) while you learn about ancient Hawaii from your guide.
Things to Know Before You Go
Coconut Island is ideal for nature and outdoors lovers.
Check the HIMB website for information on their occasional family-friendly tours.
Kane'ohe Bay is a nursery for scalloped hammerhead sharks. Snorkelers may encounter the shark pups, which like to swim in shallow water. Hammerheads don't pose much risk to humans, but it is advised to leave the sharks alone and avoid swimming when they are present.
Be aware of the changing tides in Kane'ohe Bay. Check the tide timetable to avoid getting stuck at high tide in places such as Chinaman's Hat (Mokoli'i) and the Ahu o Laka sandbar.
How to Get There
Kane'ohe Bay lies northeast of Honolulu and Waikiki on Oahu's Windward Coast. It is accessible by city bus and car, but traffic and parking can be time-consuming. Many bay tours include transport along with boat trips, kayak rentals, or catamaran tours—which is helpful, as you need a boat to reach Coconut Island.
When to Get There
The bay is lovely year-round, despite a moderate rainy season from December through February. Hammerhead sharks give birth to their pups in May and June, when you'll see more sharks in the area.
Visit Ahu O Laka Sandbar
Ahu o Laka is a beautiful sandbar in Kane'ohe Bay about 1 mile (1.6 kilometers) from shore. Many bay tours include boat trips to the sandbar for picnics and exploration of the bay's small archipelago, including Chinaman's Hat and Coconut Island. Some visitors experience the bay by kayak or canoe—with many guided tours of the area offering kayak rentals with instruction—or even by helicopter.
Address:
Kane'ohe, Hawaii, USA
Read More
Show Less
0 Tours and Activities to Experience Coconut Island (Moku o Loe)
---