Byzantine Church (Petra Church) Tours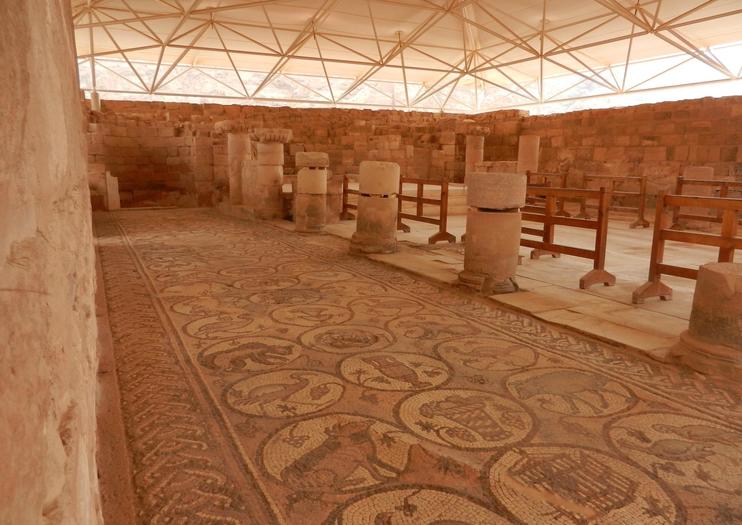 Located within the ancient city of Petra, the Byzantine Church (or Petra Church) was first constructed in the fifth century AD, on top of Nabataean and Roman ruins, and expanded in the sixth century AD before being destroyed by fire and earthquakes. It's still being excavated, but visitors can view its well-preserved mosaics.
The Basics
Excavation of the Byzantine Church, discovered by American archaeologist Kenneth Russell in 1990, started two years later and continues to this day. A protective tent covers the three-aisled basilica, measuring about 85 feet (26 meters) by 49 feet (15 meters) and paved with 230 feet (70 meters) of well-preserved mosaic tiles depicting animals real and mythical, nature, and personifications of the seasons, the elements, the ocean, the earth, and wisdom. Fragments of wall mosaic have also been found, as well as examples of marble church furnishings, some of which have been restored.
Visit the Byzantine Church and other Petra highlights, such as the Treasury and the Monastery, on a guided tour. Those with more time can take a multi-day tour of top Jordan attractions, including Petra, Jerash, and the Dead Sea. Tours also originate from either Eilat or Tel Aviv in Israel and include single-day and multi-day options.
Things to Know Before You Go
Wear comfortable, sturdy shoes to explore Petra, as there will be a lot of walking.

Bring sun protection and lots of water, especially in the summer.

A small café near the Byzantine Church offers snacks and tea.

Restrooms are available near the café by the church.

How to Get There
The Byzantine Church is located within Petra. It can be found on the north slope of Colonnade Street and to the east of the Winged Lion Temple. From Colonnade Street, it's about a 10-minute walk uphill to the church.
When to Get There
It's best to visit Petra in the early morning or late afternoon to beat the crowds and the heat. The main area of the Byzantine Church is covered, which provides some respite from the sun and heat.
The Petra Scrolls
In 1993, archaeologists found 152 carbonized papyrus scrolls in the church dating to the sixth century AD. Known as the Petra Scrolls, they represent one of the largest collections of ancient writing ever discovered in Jordan. The scrolls are still being deciphered, but they appear to be the records of one extended family living between AD 528 and 582 and include contracts dealing with marriages, dowries, inheritance, and division of property. Some of these documents can be viewed at the Jordan Museum in Amman.
Read More
Show Less
0 Tours and Activities to Experience Byzantine Church (Petra Church)
---